Here's my updated (2022) comparison of Messenger chatbot platforms pricing models.
CHATFUEL PRICES
The free plan is now limited to 5,000 users. But the Pro Plan has become slightly cheaper. You can check out all the details on Chatfuel's website.
You'll find below the pricing just announced by Chatfuel.
Bear in mind that the price is per bot / per page. So if you have multiple bots connected to multiple pages, you'll have to activate multiple pro plans. In order to make a comparison with other Messenger chatbot platforms pricing models, we'll take the price point for 10,000 users = $85 per month.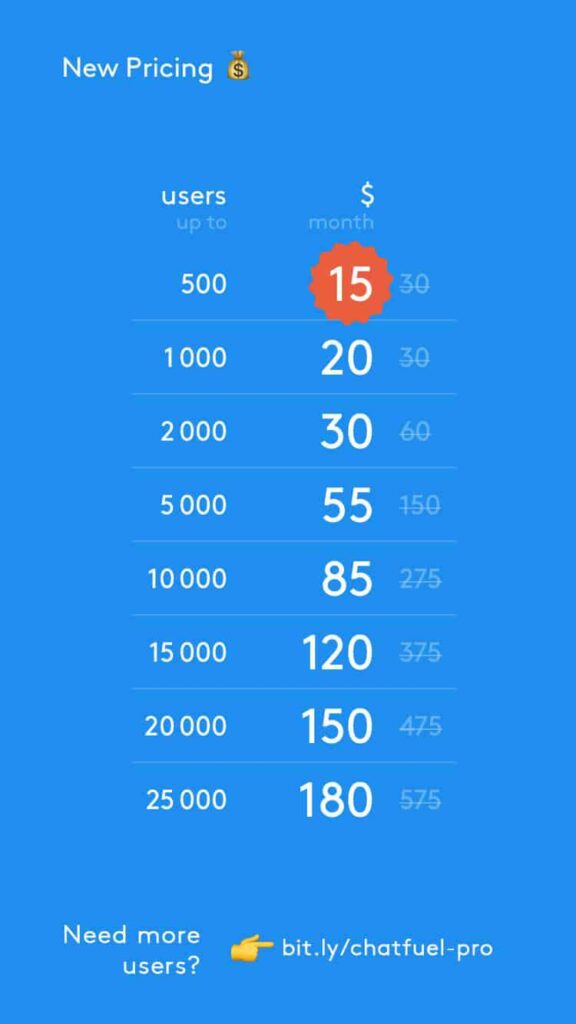 Note: if you want to improve the NLP capacity of your Chatfuel bot (pretty basic by default), you can connect it to Google's Dialogflow platform (free for most startup use cases) via ActiveChat's Integrator.
MANYCHAT PRICES
Manychat is probably the other most used mainstream chatbot platform on the market at the moment. It's a bit cheaper than Chatfuel for the same amount of users.
But in my opinion it's missing an important feature = the possibility to set automatically timed messages based on what's happening (or not) inside a conversation, for instance to retarget users if they don't reply to a question after a few minutes. A very powerful feature on Chatfuel, which increases the conversion rate for lead generation bots.
10,000 users will cost $65 per month on Manychat (vs 85 on Chatfuel).
BOTENGINE PRICES
Botengine's pricing model is totally different. It's based on the amount of conversations. It starts at $50 for 1000 conversations. Difficult to compare with Chatfuel and Manychat. But let's say that you would have 2 conversations with each of your 10,000 users = 20,000 conversations, $50 + $190 (19K x 0.01) = $240.
Much more expensive than the other 2. But if you don't have that many conversations in the long run (because of dormant users), the price could be a bit lower….
FLOWXO PRICES
FlowXo's pricing model is also based on the amount of interactions with users. The premium plan starts at $19 per month including 5,000 interactions. You can add 25,000 interactions for another $25. You can . Let's assume that we would have 2 interactions with 10,000 users, it would cost us $44 per month. I'm not sure about the latest developments of the platform. The last time I tested FlowXo, it seemed to me that it was less user-friendly than Chatfuel or ManyChat.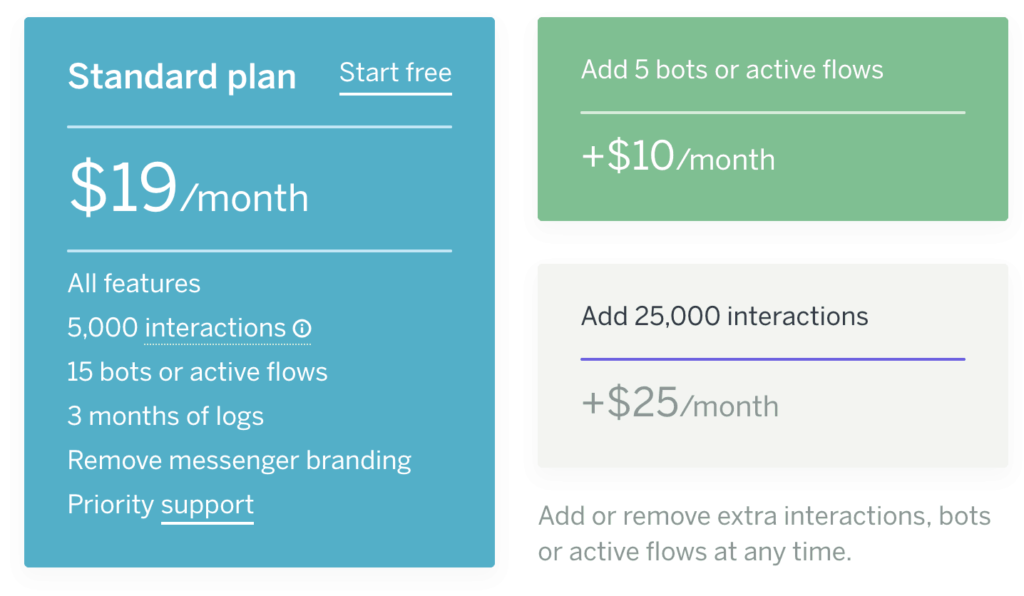 IT'S ALIVE PRICES
I didn't know this platform. It looks pretty neat.
It's Alive's pricing model is also based on the amount of interactions / messages, not the amount of users. I took the example of 20,000 messages for 10,000 users. With It's Alive this would cost you $49 per month, which makes it cheaper than Chatfuel and Manychat. But I'm still a bit confused by their architecture (the Recipe concept), which doesn't really give an overall view of the bot + I would also miss my rule-based automatic triggers from Chatfuel… I also feel it would take much longer to (re)build a complex bot with It's Alive, jumping from screen to screen, e.g. to create recipes based on groups of keywords.
It looks promising though, I'll keep an eye on their progress.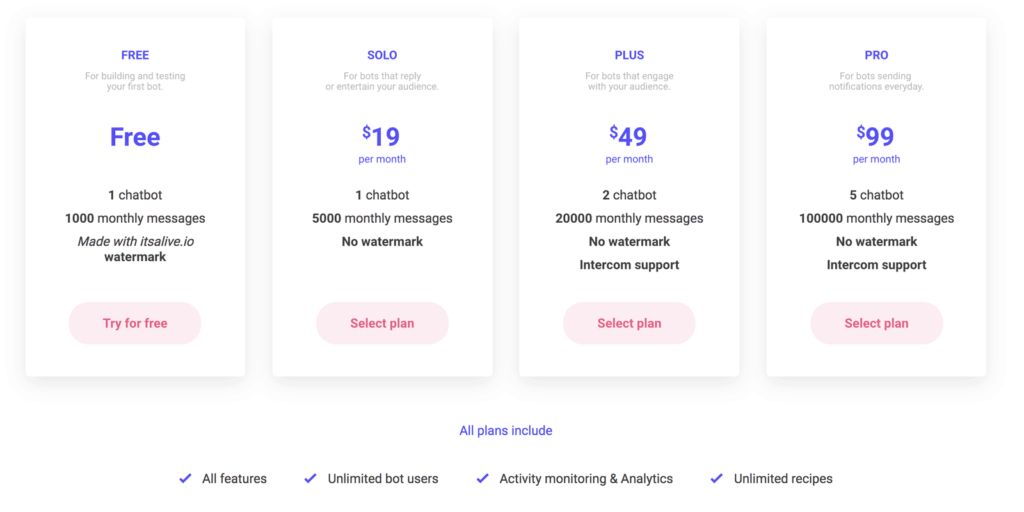 BOTSIFY PRICES
Botsify's pricing structure looks very attractive, with a Business Plan incl. 50,000 users for $50 per month. Which means that our 10,000 users example would cost $50 ($41.67 if billed annually) per month (instead of $85 at Chatfuel or $65 at ManyChat). But to be honest the UI is quite confusing / old school if you're accustomed to the fluid flows of Chatfuel or ManyChat. Definitely not as polished.
MOBILEMONKEY PRICES
I recently added MobileMonkey to my other article about automatic replies to comments on Facebook pages.
They have a Pro plan at $49 per month (15% cheaper if paid annually) which includes 5,000 contacts. To reach our 10,000 mark, we would need to buy an additional pack at $24 per month. So our total price for 10,000 users, if paid monthly, would be $73 per month, a bit cheaper than Chatfuel ($85), a bit more expensive than ManyChat ($65), with the same issue I raised earlier re: ManyChat vs Chatfuel, i.e. the absence of timed retargeting triggers which are IMO essentiel to optimize the conversion of your funnel.
MORPH.AI PRICES
Morph.ai looks very advanced but it's also VERY EXPENSIVE. It starts at… $984 per month (yes $984 would be our price for 10,000 users). It has apparently a few attractive features under the hood like "Nurturing Tools" but it's not the kind of price that most SMEs can afford.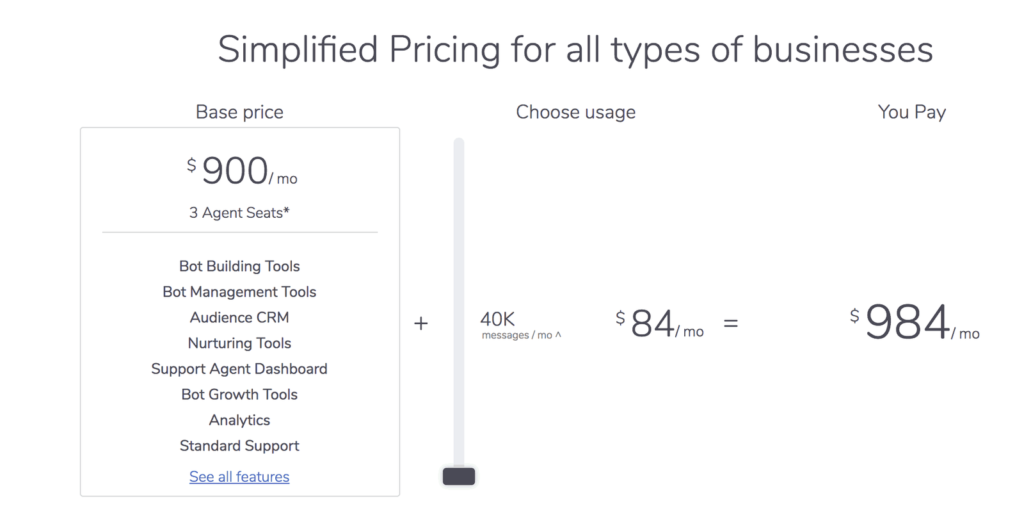 CHATTYPEOPLE PRICES
There's no public pricing for Chattypeople which positions itself on the managed services / enterprise market. So I can't comment on the price they would offer for 10,000 users. It's probably more than the self-service options listed above.
MOTION.AI PRICES
I liked Motion.ai which I tested in the past but it's now part of the HubSpot family so I won't comment on their pricing. We'll have to wait for news from HubSpot, probably later this year.
I AM POP PRICES
I'm adding a new player in this line up, I AM POP, which markets itself primarily on the music scene.
A community of 10,000 users will cost you $49 per month at I AM POP, which makes it quite affordable compared to Chatfuel ($85) and Manychat ($65).
But… I've just tested it and IMHO it's not ready for prime time. A lot of missing features… Not that easy for instance to properly connect to FB ADS.
BOTSOCIETY PRICES
I'll finish this article with another interesting product, BotSociety, which enables you to create chatbot prototypes and export them as videos or GIF. A nice way to share a project with colleagues or clients before moving into product with one of the Messenger chatbot platforms. It's also nice to promote your bot on Youtube, social media, etc (alternatively you could record your screen mirroring a phone but it's less convenient). You can try it for free with one project.
SNATCHBOT PRICES
I've just discovered another supplier, based in Israel, Snatchbot.
Their service is free without any usage limit. You just have to switch to PRO if you want to remove the "Powered by Snatchbot" branding.
Prices start at $30 per month for 10,000 exchanged messages (not a user count-based model like ManyChat or Chatfuel). The choice depends on your use case. This option could be either less expensive or more depending on the type of bot you're building (with just a few or a lot of interactions per user). I love the fact that you can connect the same bot to multiple platforms, including email (by using a @snatchbot.me forwarding address). You can also leverage a powerful NLP engine which includes a lot of pre-trained models, much more impressive than the basic "AI" section of Chatfuel.
The only thing I found quite confusing after playing with the platform for about 30 minutes was the way you have to set a custom value fed by a user input ( incl. quick replies).
Here's the video explaining the worfklow, it's not the most intuitive thing I've seen… but it worked 😉 I might use Snatchbot for a few projects to test it further.