What do we mean by verticalization?
A vertical can be defined as an industry / use case, either wide (e.g. hospitality, travel, health, software,…) or hyper focused (e.g. italian restaurants, flights, weightloss, CRM,…). Google offers a general purpose horizontal search engine, not aimed at a specific vertical. Google's competitors include are Bing, DuckDuckGo, You.com, Brave, etc. Competing with Google on the horizontal search market is a very hard challenge, for many reasons, mainly the amount of data and computing power required to offer a great (relevant) blazing fast service.
Verticalization is the process of restricting an all-encompassing function to a specific vertical. So instead of searching for "anything" in the vast universe of digital information, you would for instance search for xyz software type or even, more precisely, for CRM apps for real estate agents.
How big is Google in the World of Search?
Google has a massive impact on our daily digital activities. At time of writing (June 2022), the Mountain View-based search engine processes a whopping 8.5 billion queries per day. It handles more than 90% of all search queries worldwide. Google is still undoubtedly the priority gateway for most of our research needs. But the situation is evolving, driven by a new generation of verticalized directories, usually featuring some search capabilities.
Amazon, a search engine for product-related searches
These days, a lot of people skip the Google gateway when searching for products.
Amazon, which ironically appears at the top of Google's page 1 for most product-related queries, has become a default starting point for savvy shoppers who save countless clicks by using Amazon as a verticalized search engine for all kinds of products. By the way, just as Google does, Amazon is featuring sponsored results at the top of its internal SERPs. All vertical search engines do monetize their premium screen real estate in the same way.
Google's fighting the potential exodus of shopaholics to Amazon and other marketplaces by ramping up its own product search capabilities, through Google Shopping, a nested vertical search engine, mostly consisting of paid placements.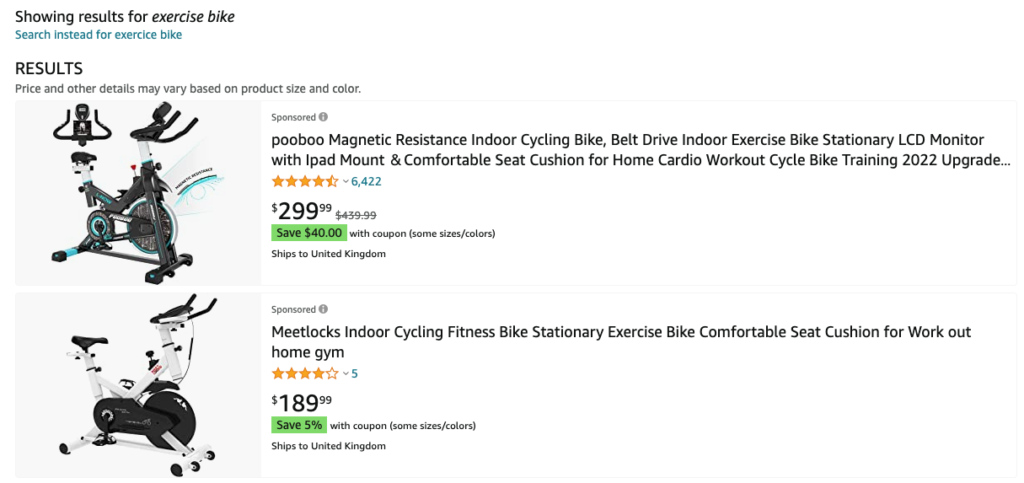 Other marketplaces, albeit to a lesser extent, enjoy the same kind of product search engine status: Ebay for second hand products, Farfetch for fashion, Backmarket for refurbished electronic devices, etc.
Since Google is still a major traffic provider, those marketplaces also play the SEO / SEM game to attract organic and paid visits from a very long tail of keywords.   
What are some examples of vertical service-related search engines?
You could search on Google for "freelance writers" and spend countless hours browsing personal sites and old school freelance directories. But you can also skip the gateway and type in your query in Fiverr search bar. One less click to make to find a copywriter or tens of thousands of other freelancers, properly categorized.
Other examples of B2B service-related vertical search engines include Upwork, Malt (EU) and Toptal.
The same concept applies to B2C services. You could even argue that Uber is a vertical search engine to find personal drivers to reach a specific destination, as an alternative to "taxi near me" or "how to Heathrow" queries in Google (see below). Uber offers a much better user experience compared to opening countless taxi companies' websites. Uber is almost fully verticalized in the sense that it provides direct access to a pool of dedicated drivers. They're free to work for other apps (Bolt, Freenow, Heetch, etc.) but some drivers are almost exclusively Uber operatives (hence recent court battles). 
Other B2C marketplaces such as Taskrabbit, Bark or Thumbtack act more as Web 2.0 lead generation platforms. They have added an advanced dynamic onboarding to the old classifieds model.
Directories + booking & scheduling = actionable vertical search engines.
A new generation of directories offering to merchants and customers booking & scheduling features can also be considered as a class of vertical search engines.
Let's list a few examples:
AirBNB is a vertical search engine for holiday rentals
Houzz is a vertical search engine for home remodelling
Getir, Doordash, Deliveroo etc. are vertical search engines for food & grocery deliveries
Mable and BetterHelp are vertical search engines for mental health therapy
Opentable is a vertical search engine for restaurants
Tripadvisor is a vertical search engine for activities, hotels, bars and restaurants.
CrystalRoof is a vertical search engine to learn facts about your neighbourhood
Doctolib (FR) is a vertical search engine for health practitioners
Planity (FR) is a vertical search engine for beauty & hairdressing salons
Treatwell (UK) is a vertical search engine for beauty & wellness services
Those booking-enabled directories / vertical service search engines also play the SEO game to be featured in Google SERP.
Not only do users expect those platforms to output an actionable search result, they also expect them to deliver either the product/service (food/groceries, ride, therapy, etc.) or at least a firm reservation with a clear delivery protocol.
Software Review Sites = Vertical Search Engines
G2, launched in 2012, claims it lists 100,000 + software and service companies in 2,000+ categories. It acts as vertical search engine for software solutions. Alternatives include Saashub, Alternativeto and Capterra.
Those software search engines, discovery destinations in their own right, still heavily rely on Google for most of their traffic. They rank for hundreds of thousands of long tail queries in Google.
G2 for instance generates 77.55% of its traffic from organic search according to Similarweb.
You can check out rankings & keywords via our SE Ranking widget.
Other examples of Vertical Search Engines
Any directory, marketplace or e-commerce site enhanced by a state-of-the-art search feature can be considered as a direct destination for web surfers, skipping the Google gateway.
Search As A Service platforms such as Algolia or ElasticSearch enable developers to offer a near-Google experience to their users. You can visit Wappalyzer or BuiltWith – two great vertical search engines listing sites based on their tech stack – to get a list of websites using Algolia.
GumTree, a major classifieds website in the UK, is powered by Algolia, offering instant result suggestions, as you would expect from Google itself, but on a smaller subset of data.
Curated directories listing useful resources are a form of vertical search engines, interestingly highly popular on ProductHunt. I've created my own personal list of useful online resources, using Notion, which offers a very effective search feature, leveraging text and tag annotations. It could benefit from being more prominent in the UI though.  

Other great examples of vertical search engines include all image, vector, icon, sound and video directories, such as Shutterstock, Freepik, Unsplash, The Noun Project, StickPNG, Vectorwiki, Epidemic Sound, Artlist, Soundsnap, Mixkit and hundreds of others.
If you have a FreePik subscription, you won't search for random images on Google, you'll head straight to FreePik, offering a huge selection of royalty-free images for a flat annual fee.
Vertical Search Engines, a booming trend, still in its infancy
There are still hundreds of opportunities for smart vertical search ventures.
Google isn't effective for a lot of use cases, which benefit from a curated approach, revisiting, in a way, the origins of search (Yahoo Search, which started as a web directory in 1994, with a search bar added one year later, in 1995).
Did you know that in 2020 almost 65% of searches on Google apparently ended in the search results without clicking to another website = zero-click searches (Source: Sparktoro)
It doesn't mean that those searches weren't followed by a valid action (calling a phone number, driving to a destination or simply reading the sufficient info provided by instant answers / featured snippets) but the report sparked a debate about the effectiveness of Google. And it is true that, in a lot of situations, you're better served by a vertical search engine, focused on a specific topic.
I believe that we will see the emergence of a new class of vertical search engines, enhanced by ML/AI features. That's precisely the topic of one of my current projects, KPI Crunch, an open platform for competitive intelligence, offering its own CI Search Engine. I invite you to check it out.
If you're developing your own form of vertical search engine, please send me a message or leave a comment, I'll be happy to update this article to feature your project.