I don't publish product reviews very often but this Renpho AI Smart Bike deserves a short piece on my blog.
After trying a few spinning classes in a nearby gym (£15 per session), I decided to purchase a home exercise bike, which would better fit my daily routines. I did not want to spend £2000+ on a Peloton bike, the leading inspirational brand of the home exercise category so I embarked on a quest for an affordable alternative.
There are plenty of home exercise applications available on the market, I just needed to find a compatible smart bike. 
The Renpho AI Smart Bike is currently ranked as a top choice by multiple fitness publications. It's available on Amazon for £699 ($915 on March 14, 2022), less than 1/3 of the cheapest Peloton package (Bike+ Basics).
This home exercise bike comes with a very nice bonus: it can be paired with a free app (no subscription required) available both on the iOS appstore and on Google Play, AI Gym. The application features a selection of video courses, as well as road challenges. 
If you want a broader range of activities, you can also connect the Renpho AI Bike to Kinomap, Zwift and a series of other home exercise applications. I've started using Kinomap, developed by a French startup, which offers thousands of exciting user-generated bike rides, all over the world.
You can connect Kinomap in one tap to your Renpho bike. In order to keep a centralized record of all my sessions, I also run Renpho's AI Gym app in the background, in Free Ride mode. And I play my favourite music on Spotify. Earlier today I cycled for 45′ on the roads of Flanders, energized by The Boxer Rebellion's Promises album, featuring the very appropriate tune "Keep Moving".  I still have to connect my Oculus Go VR headset to Kinomap, via their Remote Display Feature, for a fully immersive experience! I will probably sign up for an annual plan at the end of the 14-day free trial period (EUR 89.9 per year (£75 at time of writing)), for unlimited use. That's cheaper than the Peloton subscription (£12.99 per month).
Some of the compatible applications will adapt the resistance of the bike dynamically during training sessions but you can also control it manually by turning the central knob / wheel. As you can see on the picture below, you can also connect your tablet (or smartphone) to the USB port under the handlebar to charge your device while you're training. You can also easily connect almost any fitness tracker to the AI Gym app, incl. the Apple Watch (to measure your heartbeat, oxygen level, etc.)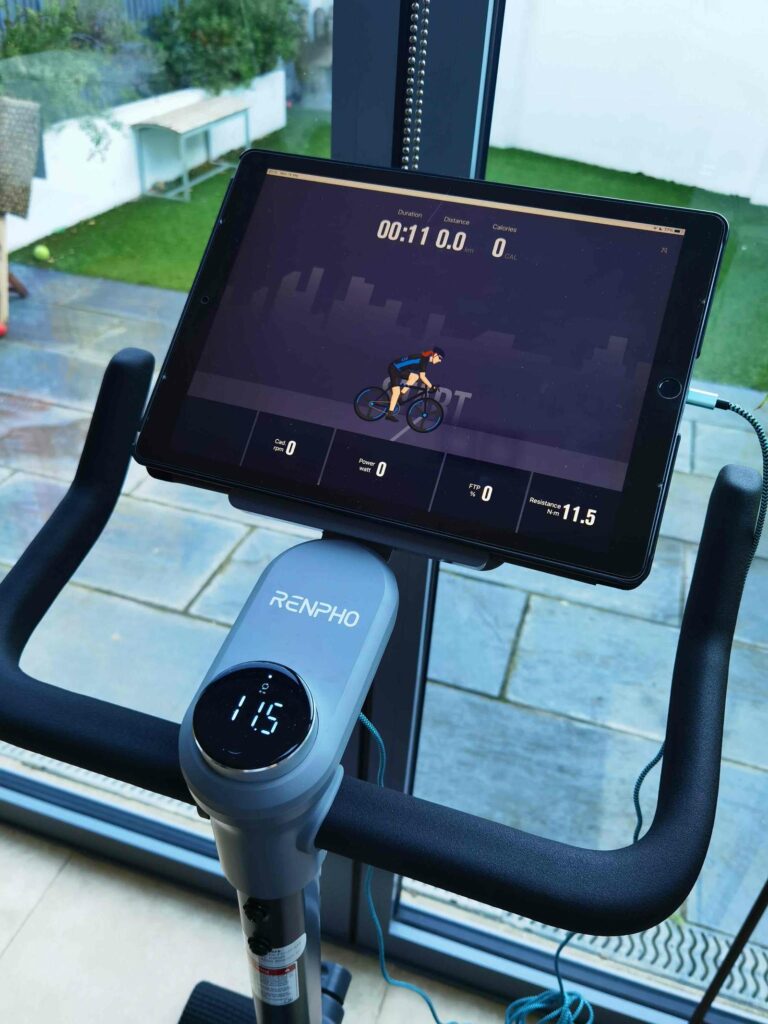 If compared to spinning classes priced £15 for 45′, the investment in a Renpho AI Smart Bike is recouped in 53 sessions. If you're using it once a day, that's less than 2 months (excl. optional app subscriptions).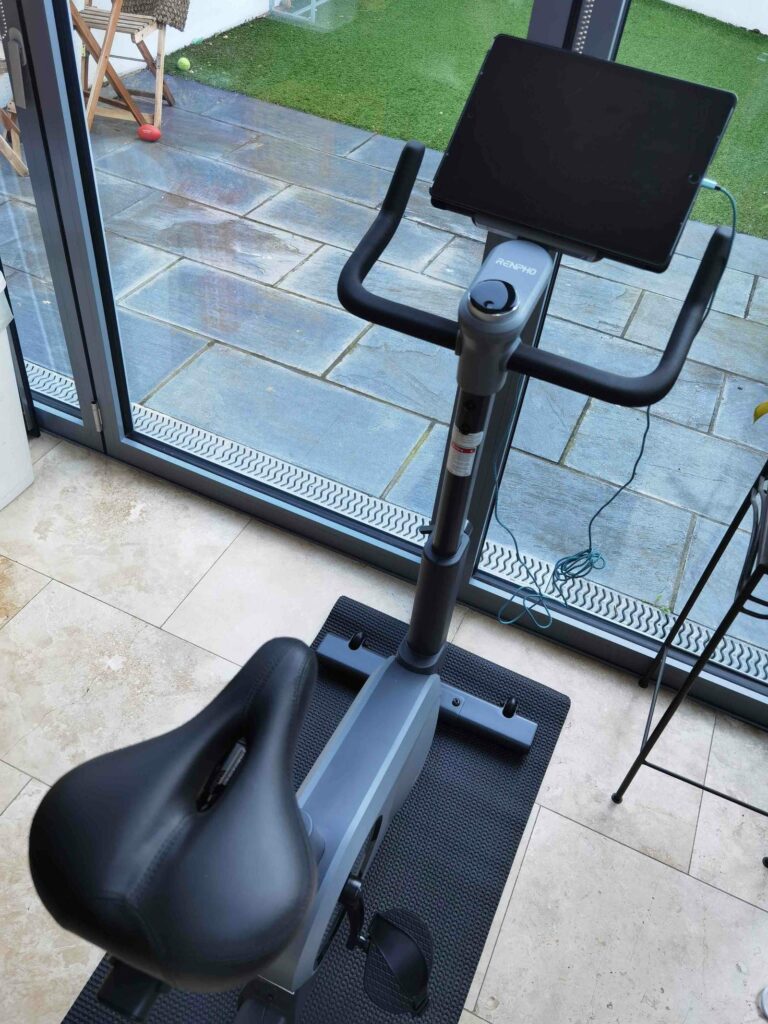 The build of this exercise bike is very sturdy. It is delivered almost fully assembled. You just need to attach the handlebar / pad holder (4 screws), the stabilizers (2 screws each) and the 2 pedals (+ straps), that's it. It doesn't take more than 20 minutes. Adjust the saddle height and the handlebar height, connect the bike to the mains, switch it on, download & open the AI Gym app, then connect the app to the bike (via Bluetooth) and you're good to go! Multiple riders can use the same bike via multiple Renpho AI Gym accounts.
So far I'm very pleased with this purchase. For more information about the Renpho AI Bike, head to Amazon. Have fun riding your exercise bike in the metaverse!