We all know that the internet is a deep rabbit hole. I will always be amazed at what I come across. Let me take you by the hand. Follow me in one of my weird search meanderings…
Earlier today I was in the middle of some serious research around the "glow in the dark" theme. You know… "glow in the dark sticks", "glow in the dark fishnets", etc. when I saw this tiny product on Google shopping after sorting the results by ascending price.
It's a cheap glow in the dark figurine of Jesus (5cm high). The delivery is more expensive that the product (or maybe Holyart takes a little profit on shipping, God knows…). 
So I clicked on the link and I landed on a neat catholic website full of attractive religious items. In their "Protection and Safety Devices" section promoted in the header slider they sell all sorts of products adapted to the current situation, incl. a beautiful Rod with saucer for Eucharist, a must-have to respect social distancing and, of course, the iconic white leather bag for alms. Nice reconversion (disclaimer: I don't get any commission from Holyart).
Can you find catholic best sellers on Amazon?
I was curious to see how Amazon approached this vertical (catholic products). I tried to find the cute baby Jesus on Amazon.com but I only found an older version of the Messiah, on the cross and in statue, both glowing in the dark (disclaimer: I'm an Amazon affiliate).
I also found a nice wooden cross apparently manufactured in Bethlehem, feat. a holyland sample (soil or stone or incense). The real deal, for less than $15 (excl. shipping).
Talking about shipping, my unexpected journey brought me – through ahrefs – to a website aptly named "Catholicfreeshipping.com", that's a promise! The website is run by a married couple (with 12 kids). They have a full stock of inspiring products "spreading the beauty of Catholicism to all the ends of the Earth" (that's their baseline).
How did I find this website? Good question. Well, they rank #1 for "glow in the dark crucifix", outranking etsy and Amazon. They know a thing or two about SEO, for sure (note: all the outbound links in this article are dofollow, which will transfer some of my juice to those heavenly properties).
Is Catholic Products a booming business?
That's what I asked my friend big G.
I skipped a few articles about the Vatican pharmacy and I landed on an article from Walesonline titled: "sex shop for clergy a booming business." WTF? 
Devout Christian Stan Hegarty was laying decking when he claims he had a vision from God telling him to set up the site.
I was now on a mission to find this site (featured in a BBC documentary called "The Missionary Position"). Unfortunately the store doesn't exist anymore. The domain Whollylove has been parked. You can inquire if you're interested to relaunch this divine initiative.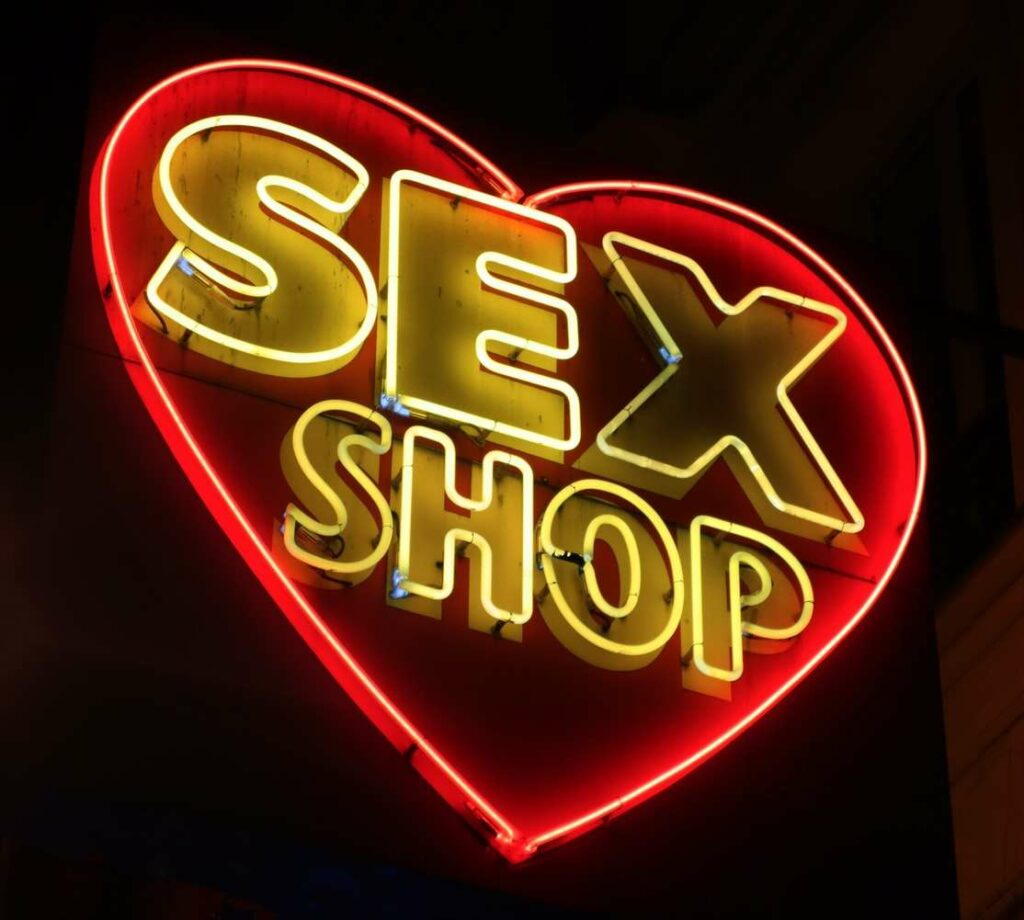 But of course Stan Hegarty wasn't the only believer with a strong calling. On the other side of the pond, another Christian couple founded Christian Love Toys, which is, let's say, pretty explicit a few inches under the hero header which states:
A Christian Sex Toy Store for Married Couples
The final question is: what brings organic traffic to a christian sex toy store? Let's ask our friends at ahrefs. 
I will just pick the following ones to conclude:
Christian lingerie (yes, it's a thing)
Religious sex toys (imagine…)
Married sex toys (wedlock isn't just a human thing)
lingerie without models (deliver me from my temptations…)
sex games for married christian couples (well, how are they so much different?)
Remember, this all started with a simple query: "glow in the dark", in Google Shopping.
Amen.
PS: if you're looking for sex toys, no matter which God you want to please, follow this link.