If you're a Gandi customer for domain registration, you previously enjoyed 2 free email accounts as part of the domain offering.
Gandi recently discontinued this offer and is currently invited their customers to convert their free email addresses to a premium plan, which starts at £2.99 par mailbox. It seems unfair to suddenly change the terms for long-time customers who have been loyal to the company.

If you've had 2 emails attached to your domain, that's £71.76 extra per year, on top of your domain renewal.
For many use cases, you're just using the emails for inbound purposes, not to send emails.
They're the emails you're using as the contact email on your website for instance.
Which options do you have to replace Gandi's discontinued free email offering?
You could migrate to Google Workspace or another premium service to manage those custom email addresses but it also comes at a price. At Google, it starts at £5 per month per email address.

Zoho Mail offers you 5 free email addresses but it comes with a catch: you can't access your emails via POP or IMAP, so you won't be able for instance to add those emails to your gmail account (which is my preferred way to receive & send my emails).
You can only access your emails via Zoho's webmail client or via the Zoho Mobile App. You can of course upgrade to a premium Zoho account (which is much cheaper than a Gandi or a Google Workspace account: £0.8 per month (billed annually) for 5GB of storage per email address).
Create FREE email addresses with Cloudflare
I'm using Cloudflare for most of my domains to optimize delivery & performance via their global CDN.
I randomly discovered in the side bar an "EMAIL" option.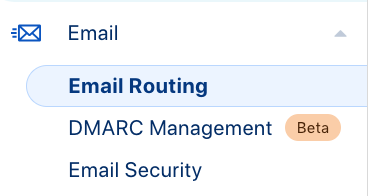 It enables you to create as many inbound email addresses as you want which can be routed to the email address of your choice.
It's very easy to set up. During the onboarding, simply replace in a few clicks your old MX / TXT records (for instance from Gandi) with Cloudflare's ones and you're ready to create as many inbound email addresses as you want.
You even have a Catch All Options (for any email attached to your domain).

👉 You need access to the forwarding email address. Cloudflare will send you a verification link. After the initial verification, you can use the same email address for multiple inbound email addresses.
Can you send emails via Cloudflare Email Routing?
The short answer is NO. The purpose of this service is to manage inbound emails. But if you're using gmail as your preferred email client, there's a way to SEND EMAIL AS using your custom domain email address.
First you'll need to quickly create an app password via your gmail Google account.
Head over to https://myaccount.google.com/apppasswords, choose EMAIL and OTHER for device, give a name to your "app" and you'll get a password. Keep it safe for the next step.
In the SETTINGS of your gmail account, click on ACCOUNTS & IMPORTS and then SEND EMAIL AS.
This will open a POP UP. Enter the details of your CUSTOM DOMAIN EMAIL (untick Treat As An Alias and enter your custom email address once more in the second field).
On the next screen use Google's SMTP address (outbound email server), enter your GMAIL ADDRESS (not your custom domain email) and the password you created via myaccount.google.com/apppasswords.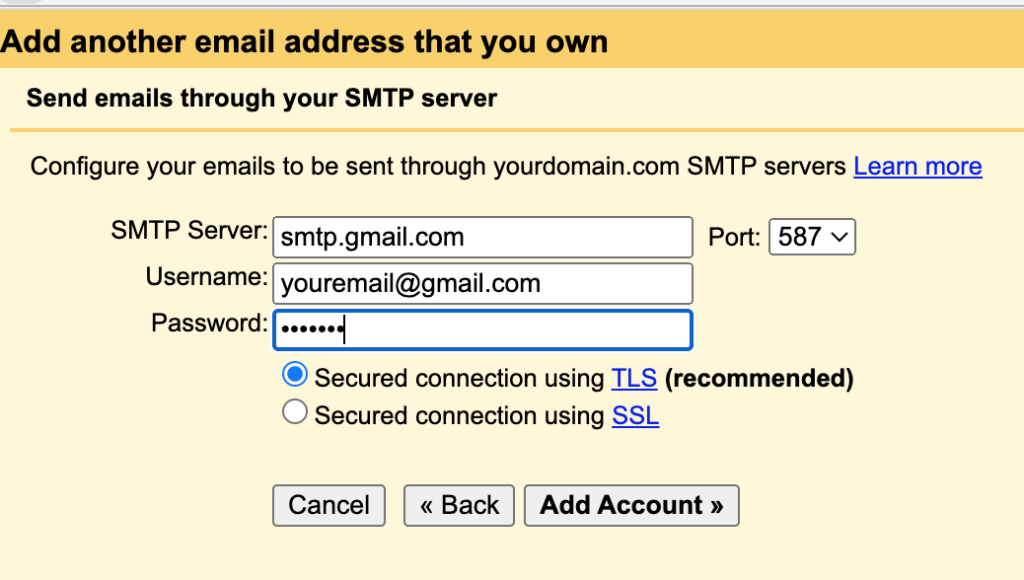 You will receive on your custom domain email address a verification code.
Paste it into the field you'll see on the next screen of the pop up in gmail and you're good to go: you'll be able to send email using your custom domain email address as the sender.
Be aware though that your gmail address will appear, hidden, in the header of the outbound email. You will receive the replies on your custom email domain address.

You have just saved £12 to £60 per email addresse per year 😉
Buy Me A Coffee for the tip 👇