Happiness is a strange emotion. It's hard to define
With the exception of chronically despaired fellows, we're probably all in pursuit of happiness.
If you ask anyone what they would wish to their best friend, they would probably list "health", "success" and "happiness", the former two influencing the third one. Sick broke people rarely consider themselves happy. Happiness is often associated with Love, as in "Love and happiness". Happiness comes in many guises. Everyone will give their own intimate definition of a joyful spirit.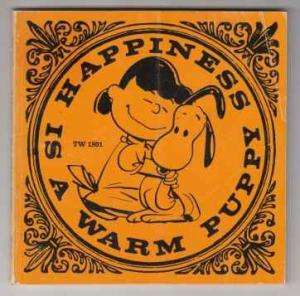 Broadly speaking, I guess it's safe to say that happiness can be described as a state of mind, fleeting or sustained (for the happy few), which puts a smile on our face.
"Happiness" as a head term (the isolated keyword) is searched roughly 88,000 times per month on Google USA. "In pursuit of happiness", 45,000 times. And "happiness synonym", 16,000 times, not too competitive (KD(Keyword Difficulty) of 1 on ahrefs).
I will tell you in a few weeks if I start ranking on "happiness synonym" 😉 This would make me quite happy, for sure.
A smiling face, synonym for happiness.
What are the synonyms for Happiness?

Contentment – rather practical, a cold statement, the bare minimum you can expect
Bliss -I love that one, it sounds like a gentle summer breeze on your skin
Delight – there's something shining in this one
Jubilation – the pernicious side, almost orgiastic
Elation – I've never used this word, probably because of its proximity with another type of jubilation
Enjoyment – it's pretty basic, another form of contentment
Euphoria – unfortunately, it doesn't last…
Exhilaration – the sense of excitement which happiness procures
Glee – pretty high on the scale of delights, a nice monosyllabic alternative to bliss or joy
Joy – three letters to say it all
Thesaurus.com also suggests laughter, optimism, peace of mind, prosperity and well-being but these are more causes or consequences than pure synonyms.

Happiness is…

What do we see if we start typing "Happiness is…" on Google?
Happiness is a butterfly – it is a song by Lana Del Rey
Happiness is a warm gun – another song, by The Beatles, on their album The Beatles (1968)
Happiness is a state of mind – which was my intuition in the intro
Happiness is wasted on me – a book by Kirkland Ciccone
Happiness is a choice – well, if it was that easy…
Happiness is quotes – we'll list a few later
Happiness is a warm puppy – the first book (1962) by Charles M. Schulz, the author of the Peanuts series
Happiness quotes
"Most folks are as happy as they make up their minds to be. "

Abraham Lincoln

"Happiness makes up in height for what it lacks in length."

Robert Frost

"Now and then it's good to pause in our pursuit of happiness and just be happy."

Guillaume Appollinaire

"There is only one happiness in this life, to love and be loved."

George Sand

"Nothing prevents happiness like the memory of happiness."

Abraham Lincoln

"Everyone chases after happiness, not noticing that happiness if right at their heels."

Bertolt Brecht

"When a man has lost all happiness, he's not alive. Call him a breathing corpse."

Sophocles

"There is only one way to happiness and that is to cease worrying about things which are beyond the power of our will."

Epictetus

Happiness images
If you type "happiness" in Google images, here's what you'll see first, mainly happy emojis and a few colourful balloons.
Let's find happiness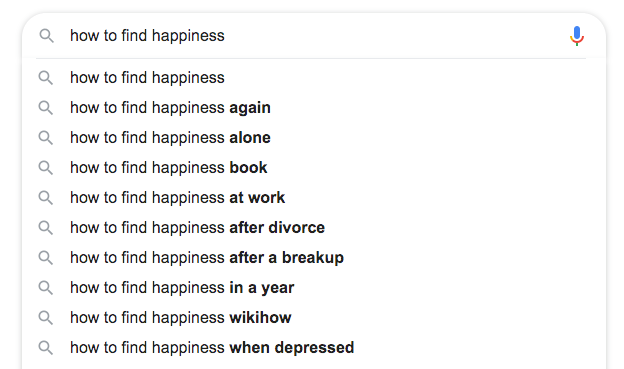 The joy-inspiring colourful balloons remind me of a lovely movie which perfectly depicts how you can find happiness in kindness.
By the way, what does Google autocomplete say about ways to find happiness?
Find happiness in yourself – you don't have to seek very far to find joy
Find the happiness in your life – where else?
Find happiness in simple things – it's all there, ready for you
Find happiness in the little things – another way to phrase it
Find happiness in misery – when you're at the bottom, find your way up. After rain there's a rainbow. There's apparently a Chinese saying that can be translated as "out of the depth of misfortune comes bliss".
Find happiness in other happiness – it's contagious
Find happiness in what you have – the wise way to do it
Find happiness in life – what else?
if we start with "How to find happiness…", here's what we get on Google:
How to find happiness again – if you ever felt happy, you want more, obviously
How to find happiness alone – it's easier to find happiness surrounded by nice people but sometimes you've got to find the road to joy on your own
How to find happiness book – great insights come from great books
How to find happiness at work – your job being so time consuming, it's better when it makes you happy
How to find happiness after divorce / breakup – open yourself to new opportunities. Rejoice!
How to find happiness in a year – it's a great resolution!
How to find happiness wikihow – if you're looking for a tutorial…
How to find happiness when depressed – it makes sense!