Want to find out which technologies are used by your competitor(s) or which websites are using a specific technology? Here are four services you can use to get the answer in a snap.
It's the only one I already knew before carrying out further research for this article. To be fair, it looks pretty old school compared with Similartech, which we'll review in a moment. It covers 19,143 different technologies across 370,458,530 websites.
See here the report you'll get for Facebook.com
On a positive note, BuiltWith is the cheapest of the 3 enterprise-grade tools reviewed here, for unlimited results per researched technology ($495 per month for their Pro plan), which compensates their lack of user-friendliness compared to Similartech.
I absolutely love their reports per technology type, which can be accessed free of charge.
Check out for instance their report on "marketing automation" across the whole internet. You can also see the results for the Top 10K, Top 100K and Top 1M sites, very useful for sales purposes. Obviously if you want the whole list of websites for a specific technology, you'll have to upgrade to a premium plan, which isn't cheap + the price depends on the amount of websites you want in your report (but there's genuine commercial value in the knowledge curated by these providers).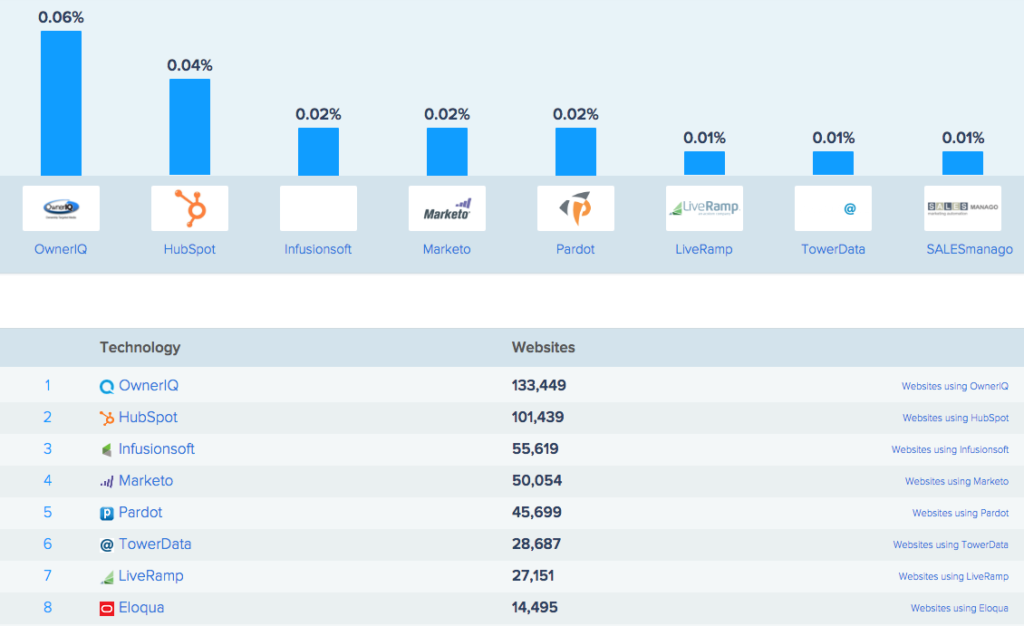 Similartech also gives direct access to targeted employees from the companies running the websites. Their Starter premium plan ($290 per month) gives you access to 100 personal emails.
For a specific website, Similartech will show you the evolution of their tech stack over time. You can even set alerts to receive an email notification when websites start or stop using a certain type of technology. Pretty cool!
They offer an interesting predictive analytics product which enables you to score existing prospects and unlock new opportunities based on the tech stack of your existing customers.
They also provide technology tracking with the possibility to get a list of business contacts for the companies surfaced by the tool, which can be exported to your usual CRM SaaS.
Comparatively, for a small sample of top prospection targets, Datanyze is slightly more expensive than Similartech. Following 1 basic technology (like Mailchimp) will cost you $300 per month with Datanyze whereas you'll pay $290 per month with Similartech for 5 monthly tech reports incl. 1,000 websites per report. As far as I understand the pricing model of Datanyze, there's no capping in the amount of websites per technology. But it's limited to one (vs 5 with Similartech). Of course you can buy access to extra technology reports with Datanyze but the monthly bill will increase accordingly. There's just a little discount for each additional technology.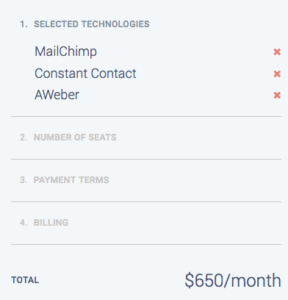 It's not an entreprise-grade service (it's a crowdsourced platform) but it will give you relevant results for the most popular technologies + insightful comments from developers. See for instance what you get for Mandrill.