As I was sharing my previous article "Building SaaS for the Notion Generation", a friend told me that in his business and his family, the application of choice wasn't Notion but Airtable. And indeed Airtable has definitely marked a paradigm shift in the history of software, reinventing the spreadsheet format, bringing no-code database management to the masses.
Let's remind ourselves of the key milestones in the history of spreadsheets.
It all started 43 years ago…
What is a spreadsheet?
The Encyclopedia Britannica defines a spreadsheet as a computer program that represents information in a two-dimensional grid of data, along with formulas that relate the data. The first spreadsheets were designed on paper, replaced by electronic spreadsheets in the late 20th century.
VisiCalc (Apple) | 1979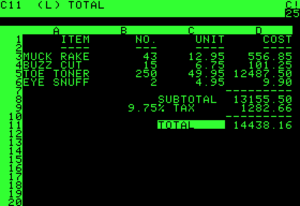 The first spreadsheet software was VisiCalc, released in 1979, developed for the Apple II Computer by Dan Bricklin and Bob Frankston. It's considered to be the Apple II's killer app. The program sold over 700,000 copies in six years (as many as 1 million copies in total). The utility of VisiCalc gave a very practical reason to buy the Apple II computer.
Here's what Steve Jobs said about VisiCalc.
Lotus 1-2-3 (IBM) | 1983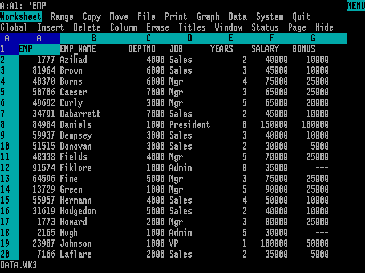 IBM launched their own version of the electronic spreadsheet in January 1983, Lotus 1-2-3. The software became the spreadsheet standard throughout the 1980s and into the 1990s.
Multiplan (Microsoft) | 1982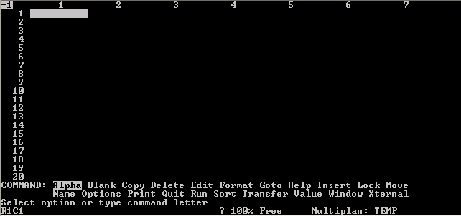 Multiplan was the first spreadsheet program developed by Microsoft. It was introduced in 1982 to compete with Apple's VisiCalc. It was also ported to Apple computers. Always outsold by IBM's Lotus 1-2-3, it was later replaced by Microsoft Excel on all platforms (Windows, Mac, iOS, Android).
Microsoft Excel | 1987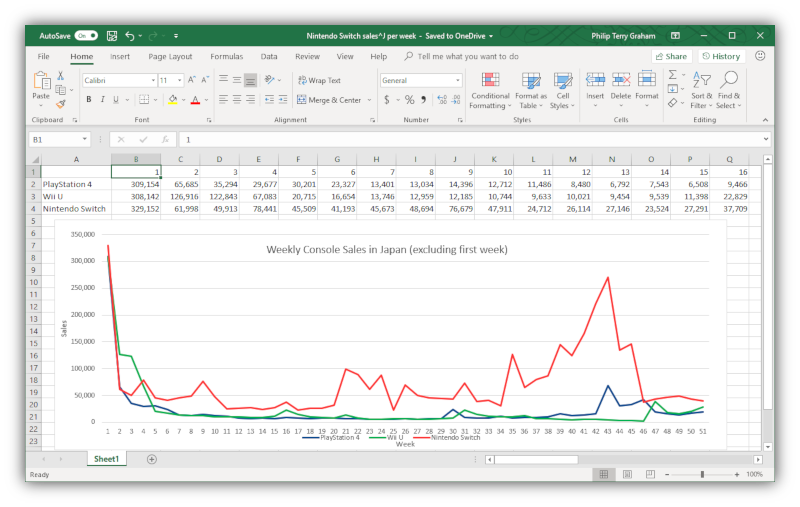 Part of the Microsoft Office Suite, Excel was launched in 1987, replacing Multiplan.
It was the first example of a spreadsheet leveraging the graphic user interface (GUI), much more user-friendly that the early text-dominated programs.
The latest version of Excel (16.0) has 484 functions.
The program supports charts, graphs and histograms as well as Pivot Charts which can be linked to a Pivot Table (a table of grouped values aggregating the items of a more extensive table).
A lightweight version of Excel, called "Excel for the web" is available as part of Office on the web. It doesn't support all the features of the desktop version.
Numbers (Apple) | 2007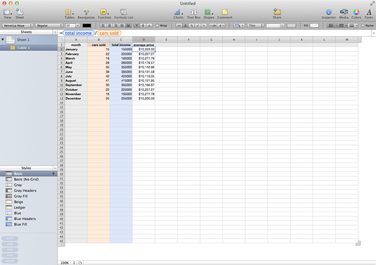 The latest spreadsheet program for Apple, Numbers, was added to the iWorks suite in August 2007.
To be honest, even if I've been a Mac user for the past 25 years, I've never really used Numbers. Sometimes it opens by default my CSV files. But I'd rather view them in Open Office Calc or, even more often, in Google Sheets.
One of the distinguishing features of Numbers is the possibility to write formulas in plain text instead of references to specific cells (e.g. B2/C2 on Excel or Google Sheets), using the headers of the table. For instance if you name two columns "Income" and "Sales" you can define a formula to calculate the average price per sale as = total income / cars sold. Numbers will figure it out and find the relevant data in the table.
Open Office Calc (Apache Software Foundation) | 2001
If you're looking for a free Open Source alternative to Microsoft Excel or Numbers, working both on Windows and Mac, it's worth exploring Open Office Calc.
The software is fast, reliable and offers most of the basic features you would expect from a spreadsheet program. I've been using it since the early 2000s. Originally it was one of the fastest programs to export a text document or a spreadsheet in PDF format. Before the advent of Google Sheets, Open Office Calc was my go-to solution to open Excel files without the need to install any Microsoft software on my Mac.
Google Sheets | 2006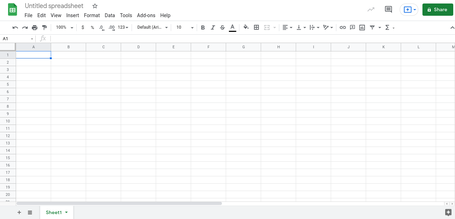 Google Sheets, launched in 2006, was a game changer which paved the way for all the subsequent web-based innovations such as Airtable, Notion or Coda. With the introduction of Zapier and Integromat in 2012, Google Sheets became one of the most used online databases, integrated in multiple automation workflows. I'm using Google Sheets as a basic online repository to store leads from WordPress Elementor Forms, Typeform or Chatfuel for instance, leveraging its pivot tables to provide realtime statistics about the evolution of the deal flow.
I've never felt the need to transition to Airtable for that purpose but I know that a lot of people use Airtable as a destination repository for their data. It makes sense if you leverage the relational database design of Airtable, i.e. the possibility to connect various databases (such as "leads", "services" and "sales reps", "cars" and "dealers", etc.).
No-code aficionados are using Google Sheets as a headless CMS to create basic applications.
Glide, which recently raised a $20M Series A, is one of the software providers built upon this opportunity (they also support Airtable).
Airtable | 2012
Airtable was launched in 2012 (same year as Zapier and Integromat), which was the perfect timing to become a software of choice for a lot of no-code early adopters. Airtable provides tons of templates which enable you to create custom internal applications such as a bespoke CRM fully adapted to your needs. It's the perfect software to curate information, both for personal and professional use. You probably know someone who's using Airtable to organize a book collection or a list of online bookmarks.
These days, basic no-code consumer-facing applications are using Airtable as a headless CMS.
StackerHQ and Softr, among others, offer the possibility to create no-code apps with your Airtable base.
Notion | 2016
I recently wrote an article dedicated to Notion. Coda, described in the next section, offers the same kind of features, primarily the possibility to present in a single smart document text, numbers and other assets (which would be scattered across different files in Google Docs).
In my opinion, Notion is more advanced than Airtable in the sense that it offers the same kind of relational database principles with the additional possibility to create all sorts of Wiki-style pages (see GIF animation above), integrating inline spreadsheets.
Coda | 2019
I don't have any experience with this platform but it delivers the same kind of features as Notion, as defined by their USP: "For teams whose best work is scattered across documents, spreadsheets and apps, Coda is the doc that brings it all together."
It also benefits from the integrations enabled by Zapier, Integromat (now Make) and other automation tools. It's worth noting that Airtable and Coda are increasingly developing direct integrations with other SaaS, bypassing the need to use a middleware platform such as Zapier or Integromat.
If you watch the video introduction above you'll notice that Coda has refined a lot of the UX details to interact with data (look for instance at the Days Estimate slider in the table at 0'53" or the inline Love reaction at 1'15"), much more than Notion to be honest. But at time of writing Coda, albeit pretty successful, doesn't enjoy the same mainstream "cool factor" as Notion even if I could see the benefits of graduating from Notion to Coda, as I saw the benefit from moving from Airtable to Notion.
We could argue that Notion has currently won the race of the all-encompassing online productivity tools, ahead of Coda. As my youngest daughter (14 years old) told me just before I was about to wrap up this piece, Notion has a much stronger & consistent identity. Coda is trying to sound cool (see their headline "Enough of this sheet" on their home page), in an attempt to grab the attention of millenial & Gen Z users but they try too hard. It's like a Samsung or a Google Pixel smartphone trying to outcool the iphone. It sounds off…
This being said, as we've seen with the advent of Airtable reinventing the online spreadsheet vertical six years after the introduction of Google Sheets, there's always room for disruption. If not Coda, another contender might steal the pole position.
Causal | 2019
If you're using spreadsheets for business planning, you should definitely check out Causal.
This London-based startup has brought spreadsheet manipulation to another level, offering super intuitive multi-dimensional formulas and gorgeous visualizations. The #1 use case for Causal is business forecasting.
It's a great example of "spreadsheet verticalization", i.e. a software revisiting a popular well-understood form factor to address a specific use case.
Gridabl is offering something similar, though less polished in terms of execution.
Rows offers templates for Sales, Marketing, Operations, Product, Finance and HR use cases.
Pigment, based in Paris, is developing the same kind of purpose-driven approach for the enterprise market, with a strong focus on FP&A (Financial Planning & Analysis).
Capbase is verticalizing spreadsheets for startup cap tables.
actiondesk is verticalizing spreadsheets for dynamic data reports
dgenious is verticalizing spreadsheets for chain store analytics.
maybe.co is verticalizing spreadsheets for financial planning & investment management
Folk is reinventing the spreadsheet / CRM for the Notion Generation
I'm betting that we will see more and more spreadsheet-centric software built for a specific use case. 
Watch the spreadsheet space for new innovations!