You've probably landed on this short article searching for a way to satisfy your irresistible craving for emojis!
Here's a quick solution. I've just found a pretty cool resource I wanted to share with you: it's by far the easiest way to add emojis to your Facebook posts, for instance a smiley face in your status updates.
How to add an emoji to a Facebook post?
The user experience on Facebook and in Messenger isn't that great if you want to share playful reactions in your social media posts or in your conversations: the Facebook platform doesn't provide any helpful search bar to find specific emojis or icons in the long list of colourful options (something which is offered by default on Discord and some other messaging apps).
You've got to remember where to find the symbols in the categories. What a pain! Especially where you're using the keyboard of a mobile device. It's not that easy to add a heart emoji to a Facebook post! ❤️️😢
How to use the Piliapp for Facebook?
I don't see any practical reason for the absence of a search bar in the settings… but fortunately, there's an easy workaround and if you want to insert emoji symbols in your posts. You can use a third-party app called Piliapp, which is currently the #1 online resource to source emoji symbols for Facebook.
Here's the direct URL: https://www.piliapp.com/facebook-symbols/ The page is full of Facebook emoticons.
This web app shows you a list of colourful emojis you can copy-paste in a snap. Simply click on the emoji you want to post and it will be added to a "copy box" at the top of the page. Then if you tap "copy", the whole sequence is copied to your clipboard and you can insert it into your Facebook posts. Voilà! Isn't it beautiful? Such a seamless experience.
Is there a Chrome extension to add emojis to your Facebook posts?
There is a Chrome extension you can download for free to insert emojis anywhere, incl. in your Facebook posts. It's called Emoji Keyboard. More than 200,000 people are using this extension to quickly search for emojis and insert them into their publications.
You can either copy-paste the selected emoji or directly insert it at cursor position.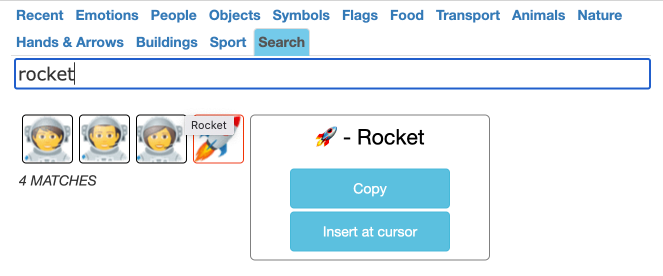 Why should you use emojis in your Facebook posts?
They just look great on the screen. Inserting emojis into your Facebook posts will usually boost the engagement of your readers by enhancing the X-factor of your copy.
Everyone will end up with a smiley face! Here's a selection of Facebook emoticons.